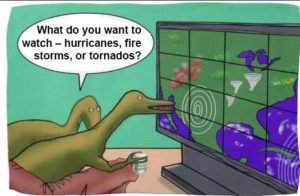 How many feet water rise before a property is underwater?
In response to South Florida's vulnerability to rising sea levels, the village of Pinecrest, Florida will encourage its 6,000 households to install an "Underwater HOA" yard sign (similar to the 18- by 24-inch "Home for Sale" yard signs used by realtors) on their front lawns during the first week of December.  Xavier Cortada, an artist, numbered each yard sign from 0 to 17 feet (the municipality's land elevation range) to show how many feet of melted glacial water must rise before a particular property is underwater. The backdrops of the signs are watercolor paintings I made in Antarctica while a fellow with the National Science Foundation Antarctic Artist & Writers Program in 2006. These paintings were created using water from the very glaciers that threaten to melt and drown Miami.
                        ********************
On August 20th, the acting head of the Environmental Protection Agency signed a proposal to weaken regulation of coal-fired power plants. The E.P.A.'s own numbers showed how this could lead to as many as 1,400 premature deaths a year by 2030.