The  Fallbrook Climate Action Team monthly presentations are continuing On Line, via Zoom. 
You can participate from your home, using  your computer.
Movie and discussion on your home computer
On August 25th three distinguished former NASA scientists will talk about discuss as a group what we humans REALLY CAN DO to head off catastrophic Climate warming - and what we can expect if we don't do anything. You'll be able to ask them question.
Pre-register for the Zoom meeting by clicking here.

Sponsored by the Fallbrook Climate Action Team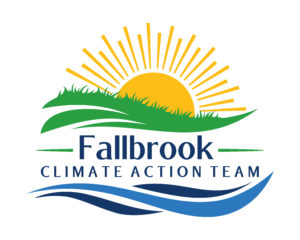 Who We Are
The Fallbrook Climate Action Team (FCAT) is a local volunteer group bringing free public presentations to Fallbrook for the past 5 years on a range of topics relating to Climate Change.  Fallbrook Climate Action Team is the only organization in Fallbrook speaking about Climate Change to local policy makers and to our community.  FCAT advocates for the community at County and local meetings discussing Climate issues.
Because of the public library closure due to the virus, FCAT has moved to On line meetings via Zoom.  See our events page for the next scheduled presentations.  Sign up for our free mailing list/newsletter to receive email notifications.