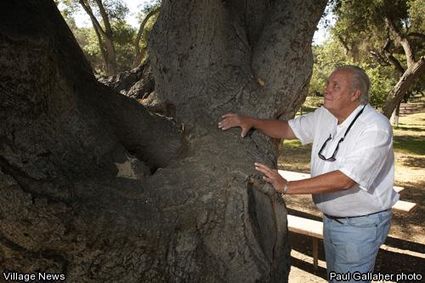 Good wishes for you and the earth in 2020
Here are some resolutions for you to consider for the New Year:
Help cool the planet and plant more oaks and trees – "the right tree in the right place."
Practice more earthly endeavors with your family, friends and neighbors, be kind to one another.
Be a part of the Live Oak Park 100-year centennial celebration next July at the park in Fallbrook.
Give back to your community, for there are many volunteers needed in our friendly village.
Give youngsters a book called "Vitamin N" and share with them the need to be outdoors now and then.
Try and carpool whenever you can and lighten the load on the road, and ride a bike to work if you can.
Have a softer carbon footprint on the planet with your daily chores, try and keep things simple.
Re-purpose, reuse, recycle, rethink what you do around your home to save energy and turn off the lights.
Build a Little Free Library on your street and fill with used books and it will spread joy.
Practice "forest-bathing" with friends and submerge yourself into nature once in a while.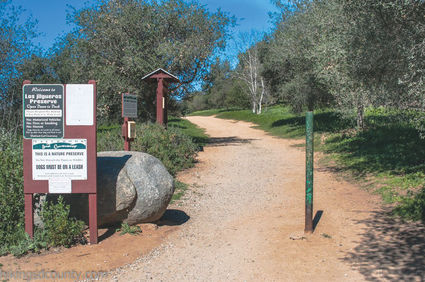 Go and enjoy the botanical gardens around Southern California for you will learn so much.
Help the Fallbrook Climate Action Team in spreading the word to help our community.
Assist the Save Our Forest group with community activities and tree plantings and become a member.
Plant more California-friendly native plants in the garden for they are beautiful and drought-tolerant.
Participate in the Balboa Park Earth Day events in April 2020 for their 50-year celebration this year.
Occasionally, take barefoot walks on San Diego's beautiful beaches and watch great Western sunsets.
Enjoy the California parks and historic places, from Big Sur to the Redwoods and our deserts.
Support the Fallbrook Beautification group Keep Fallbrook Green & Clean.
Practice meditation out in your garden, to calm yourself and hum a song once in a while.
Give handmade gifts and stop buying plastic toys – learn how to play the ukulele, slow down a bit.
Dump the lawn, think xeriscape, save water around your home and catch rainwater from the roof.
Teach your children how to cook a homemade meal from scratch and use some of grandma's recipes.
Take a neighborhood walk with friends and stay healthy. Breathe deeply and thank a tree for oxygen.
Compost more, build a worm box for the red-wigglers and don't forget to mulch your trees.
Repair broken things around the home instead of buying new and use your hands to be creative.
Share your lifelong family history and genealogy with the grandchildren to teach them their heritage.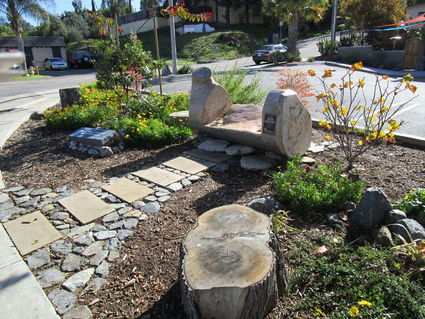 Take time to meditate in the little park on Alvarado at Vine Street.
Release more beneficial insects into the garden and practice permaculture; it's awesome.
Turn your old pool into a natural swimming lagoon with no chlorine and create an eco-friendly habitat.
Cut some flowers from your garden and give them to a stranger and just say "hi."
Plant more trees and help cool the planet with a young friend and give the tree a friendly name.
Use your vote for the good of all, for we have one planet and it's the only home we have to live on.
Peace and love for the coming year for you and yours, for there is nothing more important than family.
Roger Boddaert is a natural landscape designer and a certified I.S.A. arborist who can be reached at (760) 728-4297 to help you create an eco-friendly setting around your home.